Waterless Concrete Cleaner
When it comes to your sensitive environmental areas and locations with water restrictions, we specialize in the use of the waterless concrete cleaner ReKRETE,
ReKRETE is a finely-granulized, waterless concrete cleaning compound integrated with active cleaning agents and chemically engineered bio-organics designed to breakdown hydrocarbon petroleum matter with no harmful effects to plants, humans, animals, or soil. It is a dry powder that is spread with a broom and requires no rinsing or removal and no contaminated water runoff.
ReKRETE contains bio-enzymes that immediately improve surface appearance and penetrates deep into concrete pores to attack hard to remove stains. ReKRETE is also faster, greener and less expensive than power washing.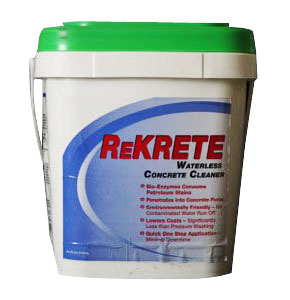 Benefits of ReKRETE ™ Waterless Cleaner include:
Bio-enzymes attack petroleum stains
Penetrates deep into concrete pores
Environmentally friendly
No contaminated water run-off
Significantly less expensive than pressure washing
Quick one-step application
Minimal downtime